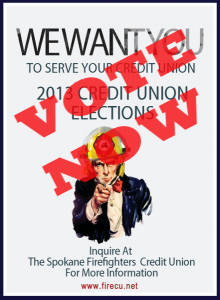 We have four candidates running for three positions on the board of directors.  
Please take some time to read their statements before voting.
Mike Moore
Hello, my name is Mike Moore and I am running for reelection for the Credit Union Board of Directors.  I have been a member of the board for the last 12 years.  I have retired after a 28 year career with the Spokane City Fire Department.  My family and I have been members of the Credit Union for 30 years and have seen the progress that the Credit Union has made over those years.  
I firmly believe that my continued service to our membership will keep the institution strong.  The Board of Directors continues to guide the Credit Union through the challenges caused by the financial melt down in 2008 to provide the membership with the best service during this difficult time.  I feel that my leadership during past 12 years provides the necessary experience to continue the high quality of service to our members.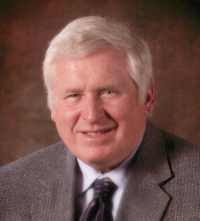 Dan Lobb
My name is Dan Lobb and I am running for reelection to the Credit union board of Directors. I retired in 2003 after 30 years on the job and have been on the Board  of Directors since some time in the ninety`s I don`t remember when. I have enjoyed being a part of this organization and try to maintain our credit union as a friendly place for our members to do business. I like the personal contact with the people who run our organization on a day to day basis. We have survived through the tough times and still maintain a good organization and I believe are much better to deal with than a bank. If elected I will try to do my best to serve the organization and it`s members.                                                                                                                         Thank You
Rick Barron
My name is Rick Barron and I'm running for a position on the Board of Directors for the Spokane Firefighter's Credit Union. I have been with the Spokane Fire Department and SFCU for almost 17 years and am currently a Lieutenant at Station 14. For the last 4 months I have been an Associate Board member and have attended Board meetings regularly. During that time I have learned quite a lot on how our credit union operates as well as what governs credit unions. If elected to the Board I want to do what I can to continue on the path of growth and modernization of SFCU. Being an active firefighter and younger than the average Board member I feel I can offer a different perspective to our Board that would benefit our membership. I will continue to be involved with the SFCU regardless of the results of the election but ask for your vote. Thank you.
Sincerely,
Rick Barron
Terry Smith
Hi. I'm seeking election to the Spokane Firefighters Credit Union Board of Directors. I received my first loan from the CU in 1977 after being on the Fire Dept. for about 3 months. I have been a faithful CU member ever since.
I've recently retired from the Fire Dept. as a Lt. after 32 years of service. This has given me the time to serve on this board, and give it the attention that I believe it deserves. I can and will put all the needed time and effort necessary to learn everything I can about the CU to serve its members. I firmly believe that this CU is about its members, and we are unique in that our Board of Directors, is elected from the membership.
My promise to you is that I will keep the members at the forefront and that I will always be available should you have any suggestions or problems.
Thank you for your time.
Terry Smith.