VISA Credit Card | Low Rates!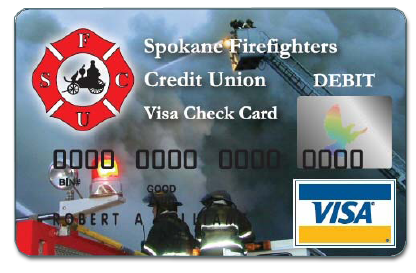 A Spokane Firefighters Credit Union VISA is the shopping and traveling companion you shouldn't be without. Our low interest rate can save you thousands of dollars in interest charges. Consolidate your bank and department store cards by transferring the balances to your Spokane Firefighters VISA and you can really save some money!
Our VISA credit card features a low annual percentage rate, no annual fee and no cash advance fees. You'll also enjoy a 25 day grace period on purchases and the convenience of worldwide acceptance. Members who are carrying credit card balances at other banks or merchants often find they can reduce their interest rate by transferring balances to their SFCU VISA Credit Card.
VISA Check Card
Our VISA Check Card allows you to use a plastic card when making purchases, rather than writing a check. You can also use the card to withdraw cash from thousands of cash machines worldwide which display the VISA network logo.
Lost or Stolen Visa Card?
Visa Credit Card
Day: (509) 484-5650
Night/Weekend: (866) 333-4740

Visa Debit/Check Card
Day: (509) 484-5650
Night/Weekend: (888) 241- 2510

Outside of the USA
Day: (909) 941-1398
Night/Weekend: (727) 227-9012